PopCultHQ received a preview copy of GRIMM FAIRY TALES #1 from Zenescope Entertainment, the relaunch of their longest-running series as well as one of the longest-running modern indie comic books. The first volume ended earlier this year with GFT #125, and begins anew with this story!
Available now, the creative team for this issue features writing from Joe Brusha, illustrator Ediano Silva, colorist Ivan Nunes, and lettering by Taylor Esposito.
Here's PopCultHQ's spoiler-free review of GRIMM FAIRY TALES #1
---
Synopsis for GRIMM FAIRY TALES #1:
Writer:  Joe Brusha
Artist: Ediano Silva
Colorist: Ivan Nunes
Letterer: Taylor Esposito
New Series Launch! Grimm Fairy Tales is Back! The world of humans has forever changed and the Grimm Universe has been shaken to its core. It started with the Age of Darkness and now with the death of Sela Mathers, earth's long time guardian, the Realms of Power have fallen into chaos. But Sela left behind one thing that may be able to save the world…her daughter, Skye. Don't miss this new chapter in Grimm Fairy Tales that takes the series back to its roots.
---

PopCultHQ's Comic Book Review:
GRIMM FAIRY TALES #1
"A Wolf in Sheep's Clothing"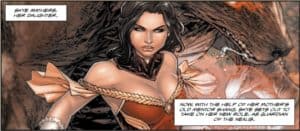 Skye Mathers, daughter of the late Sela Mathers and former guardian of the earth, now is tasked with taking over the role her mother once held. The introduction/recap to this new volume starts off nicely and done so in a way new readers to the series can jump in with no prior knowledge of GFT. The opening "tale" sequence immediately sets the tone for the upcoming story and establishes a smooth transition into the revisited Red Riding Hood. Young Skye, upon reading her mother's book, gets magically whisked away between the pages herself…and the adventure begins!
Writing:
Joe Brusha has such a gift and flair for writing. Not only does he encapsulate the essence of the Brothers Grimm tales of old, but has also carved out his own niche and become a comparable storyteller. From his choices on the words he uses to how he progresses the story, this is a craftsman who has methodically planned out his delivery and does so with excellence.
Joe is in such a great position, and I'm not just referring to his place with the company. The Grimm Universe is filled with such exquisite heroes and characters to which he can build upon and expand. I patiently await when my personal favorite from Zenescope, Robyn Hood, enters the picture and how Brusha will introduce her into this new volume.
Art:
Zenescope has always appeared to have a standard for the quality of art they expect in their titles. Ediano Silva's penciling surpasses that bar. He has created a beautiful landscape for GFT and nails the look of every character within. His Big Bad Wolf is stunning and just a beast!
His depicted action scenes are powerful and intense, his detailing is on point, and he has a great understanding of physical beings. The werewolf looked believable and it's not a bunch of 16″ waist Liefeld women fighting ridiculously. It's smart, defined, and just what the GFT reboot needs.
Colors:
Colorist Ivan Nunes masterfully takes Silva's drawings and fulfills his work. As great as the Wolf is drawn by Ediano, it's Ivan whose colors give the creature body, definition, and life. Nunes also has a real GiFT (see what I did there?) when it comes to lighting, shadows and highlights. He does an outstanding job in giving off the feel of night and darkness, so much so you can almost feel the cold, brisk air which those in the story experience. The action sequences are vibrant while most of the tale has more of a subtle approach, allowing Brusha's writing and Silva's art to control each panel. Don't get me wrong, Ivan's colors aren't overpowering at any time and don't detract from the other creators' work. Not too bold with the colors, not too light with them. You could say they're "just right."
This is an artist with a plethora of colors on his palette, and he uses them to perfection. I appreciate all the colorizations and hues of the more subdued background scenes, primarily the woods (forest). The Silva/Nunes team can certainly takes this series far.
Lettering:
Every title I've read in which letterer Taylor Esposito has been a part has been nothing short of superb. GRIMM FAIRY TALES #1 is no exception. Taylor must have an arsenal of sound effects at his disposal, all of which are perfect for whatever the panel calls. Esposito is one of a few standouts in the lettering biz and in my personal opinion is quite possibly in the top five letterers working today.
PopCultHQ's overall assessment:
I was really impressed with what I found while reading GRIMM FAIRY TALES #1. A new volume to any series can be difficult to replicate the success and appeal from the first. But even early on in the story, I was overcome with joy as this issue takes the same winning formula as the last volume with individual fairy tale storytelling, all while changing the protagonist and looking ahead at the future of this well-established series. It's going to be exciting watching Skye fill the shoes once worn by her mother.

When you pick up a copy of any issue from any Zenescope title, you know a couple of things before you even open the cover. You can expect a high level of quality when it comes to artwork, which can typically garner a 4 out of 5 stars rating on its own, and the story will be gripping and compelling. There's no doubt about that looking across their vast library of hit titles. But what you find in GRIMM FAIRY TALES #1 (vol.2) is something much more. An issue that preserves and maintains the integrity of one of indie comics longest-running series ever, carries on with the tradition found in well over 100 prior issues, all while looking towards the future and attracting a newer, larger audience. Fairy tale comic books come and go, and most are short-lived or a miniseries. Fortunately with their history with the GFT franchise, and this sharp first issue, Zenescope has cornered the market on the fairy tale genre. No publisher comes close. Excited for more Tales and seeing how Skye Mathers grows into her role as the new guardian of Earth!
The only thing that concerns me ("concern" may even be too harsh of a word) is with such a tremendous output in this premiere issue, can each subsequent issue be as full-bodied, well-rounded, and as powerfully moving as this one? It seems a Herculean task to keep that momentum and produce a narrative on par with what has been established here, but if anyone is up to the task and can make it happen, it is Brusha. And if he can continue at delivering at a pace like this, and artists Silva and Nunes stay attached to the project, they'll see this volume of GRIMM FAIRY TALES reach additional milestones of achievement.
~~~~~~~
PopCultHQ's Rating: 4.5 out of 5 Stars
GRIMM FAIRY TALES #1 can be purchased now on ComiXology,
or at your local comic shop and various online retailers.
---
Be sure to follow the creative team!


Writer – Joe Brusha
Facebook:
https://www.facebook.com/JoeBrusha/
 
Artist – Ediano Silva
Facebook:
https://www.facebook.com/ediano.silva.3
DeviantArt:
http://edianosilva.deviantart.com/
YouTube:
https://www.youtube.com/user/EdianoSilva

Colorist – Ivan Nunes
Facebook:
https://www.facebook.com/ivan.nunes.73

Twitter:
https://twitter.com/ivannunes?lang=en

DeviantArt:
http://ivan-nes.deviantart.com/



Letterer – Taylor Esposito
Facebook:
https://www.facebook.com/taylorespo

Twitter:
https://twitter.com/TaylorEspo

Website:
http://www.ghostglyphstudios.com/

Publisher – Zenescope Entertainment
Website:
http://www.zenescope.com/

Facebook:
https://www.facebook.com/zenescope

Twitter:
https://twitter.com/zenescope