'Thorus: Lord of The Super Gods,' a new indie comic book from author and illustrator Jay Piscopo, will premiere at Maine's Comic Arts Festival (MeCAF) this coming Saturday, June 4th.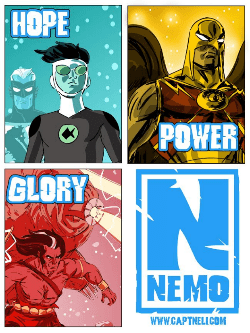 Yesterday, Maine-based Nemo Comics announced the print edition premiere of their new title 'Thorus: Lord of The Super Gods' will appear at the Maine Comic Arts Festival this Saturday, June 4th. MeCAF takes place at the Portland Public Library at 5 Monument Square, Portland, Maine 04101 and runs from 10am-5pm.
In addition to the print version of the books, Thorus paper planes will be available for $1 or will be free with the entire Nemo Comics toy and book line. Creator Jay "Captain Nemo" Piscopo will be on hand for free sketches and signings.
Check out the entire line at www.captneli.com. Can't make it to the show? Thorus is available digitally at www.drivethrucomics.com and www.comixology.com.
---
About Thorus: Lord Of The Super Gods
"Welcome to the higher vibration of the 10th Dimension, realm of Thorus, Lord of the Super Gods!" Are you into over the top 70s style cosmic epics of gods at war? Then Thorus is for you. 32 pages of pulse-pounding action introducing Thorus and his fellow Super Gods: Jade Jaguar, Mother Eartha, the evil Vertithrax and much more! Any resemblance to the works of Jack Kirby and Hanna Barbera are purely intentional.
About the Creator:
Jay Piscopo is the author and illustrator of The Undersea Adventures of Capt'n Eli graphic novel series and has created numerous titles featuring spin off characters from this series including The Sea Ghost #1: The Sea Ghost in the Machine and the Commander X All-Star Special. He is known for his signature pulp style and is a frequent contributing artist for Moonstone Books. He co-created the internationally distributed comic book series The Scrap City Pack Rats, featuring the world's first disabled superheroes. This six-issue series received national attention for its groundbreaking approach and subject matter. Jay has conducted hundreds of comics workshops and classroom events teaching drawing and storytelling techniques across the country. He is an engaging presenter with extensive teaching experience.
About MeCAF:
Since 2009, MeCAF has been Portland's annual showcase for comic arts bringing creators to the public. Unlike a typical comic convention, there are no dealers and stores set up, just writers, artists and publishers.
Follow Nemo Publishing online:
On the web: www.captneli.com
Facebook: https://www.facebook.com/TheSeaGhost
Twitter: https://twitter.com/captneli