If you lost a loved one to a heinous murder, how would you react? Sleeping Dogs is a one-shot comic put out by Cabal Comics, a European indie publisher offering something different. A compelling tale accompanied with gritty artwork makes this issue enjoyable from the start.
Shared and made available at 2015's Thought Bubble, Leeds, England's annual Comic Art Festival, the self-published comic was a hit and sold out of its initial run. Writer Fraser Campbell tells the story of Mal Gillis, and aging, struggling man trying to feel useful and coping with the death of his child. It is almost sad seeing Malcolm "the Mondo Monster" dress as a superhero to hawk fliers for a comic books store, helping an elderly tenant with chores, and sulking in a bar. But Mal is relatable and a character to which readers can connect.
The town has a local gangster putting fear in them. When Mal realizes it is this intimidating crime boss that killed his son, the outraged father takes matters into his own hands. He is able to enlist the help of a female officer is his quest for justice.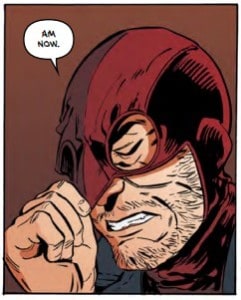 The battle between Mal and Batton becomes vicious, all the while flashbacks of memories with his child continue to plague him.  The ending of the fight with the gangster finishes in a remarkable way. Kind of a shock, really, but a good one. I won't spoil it for you.
The creative team behind Sleeping Dogs…

Writer: Fraser Campbell
Art: Lautaro Capristo
Colours: David B. Cooper
Letters: Colin Bell
Available covers:
Here's a sneak peek at some of the interior pages to give you a taste for what you have in store:
PopCultHQ Review: 4 out of 5 stars
Sleeping Dogs can be purchased online in print or pdf download.