Barrens
The world is desolate. The open land is far too dangerous. There is only one person you can trust. Welcome to Barrens.
CW Cooke: CW is an extraordinary writer who has been creatively working in the independent comics scene for various different publishers since 2007. Including Action Lab, Big Dog Ink, and most recently, Devil's Due/1First, who published his sleeper hit series, Solitary. CW has a very wide range of comic book writing from the superheroes to historical bios, romance books, to horror comics. Today CW Cooke talks to PopCultHQ to share his newest project in the kickstarter pipeline and he is more than pleased to share his tale; the tale of Esme Ford and her team in a strange new world…..Barrens
About Barrens:
Project-Nerd Publishing announces its first original publication with the BARRENS comic book. Barrens, which is debuting as a three-part mini series, is set in post-apocalyptic America where the world's population has dwindled due to virus and warfare. The remaining cities are well protected, inhabited by the wealthy, and spread out across the country. When these wealthy need something taken care of without question, they hire Esme Ford, because when the Barrens are involved, Esme Ford is the only one you can trust. Just a few major cities remain and they are inhabited by the wealthy. With their money, they survived the warfare… the virus. But others survived too.
Those who won't serve the wealthy live in the barrens, surviving on their own. But with how dangerous the barrens can be, the wealthy actually need the filthy. Hired escorts are paid handsomely to bring the wealthy from one city to another. Protecting them on the journey. Others are paid to act as mercenaries, task forces, and more.
Of all the professionals, the amateurs, and even the chumps cheating the customers…one person stands out. Her name is Esme Ford
.
The Characters:
Esme Ford: is independent, strong, smart, self-reliant, and ready to make the difficult decisions.
Esme Ford is the leader of a small group of escorts called The Barrens. They are not escorts in the general sense, but they are hired assassins and body doubles who escort the wealthy through the open, take care of insurrections, and do anything else necessary to get a job done.
The Barrens: The Barrens is a five member team well-known for what they do. They escort the rich from one city to another. They get rid of threats and enemies of others for a cost. They function more efficiently than anybody else in what is now a wasteland.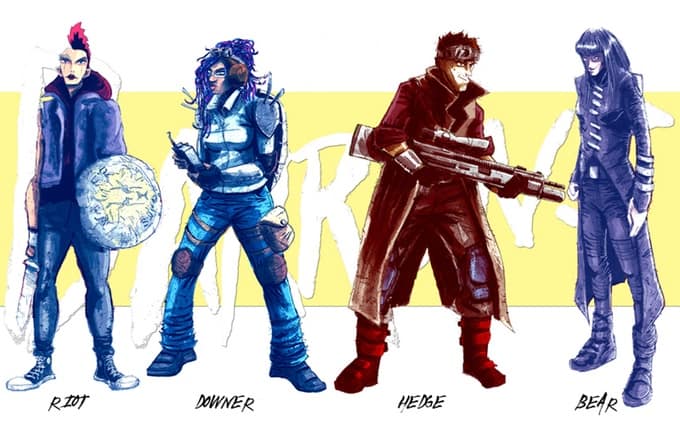 What was once the midwest United States is now just large swaths of land controlled by warriors and gangs and warlords. Esme Ford's team is tasked with getting in and out of the Barrens without being seen and tasked with getting rid of one target. The problem is the target is a ten-year old boy named Yoshi. When they arrive, Ford is the first to find Yoshi and she makes the immediate decision that she will not complete the job even though the others probably will. And that's when tough decisions must be made.
The Creators:
Barrens is created by Erin Lei, CW Cooke, Bryan Timmins, and Iggy Michniacki, and is the first original series from Project-Nerd Publishing. Bryan Timmins (ART, COLORS): Bryan is a Freelance Illustrator and Animator. He's had lifelong interests in comics, animation, music, movies, and motorcycles. His work can be seen in comics, commercials, animated series, and Major League Sports stadiums. He lives outside Kansas City with his wife and 2 children. CW Cooke (WORDS, LETTERS): CW is a writer who has been working in comics since 2007.
About the Kickstarter:
Barrens is unlike anything else out there. With a strong female character thriving in a post-apocalyptic world, Barrens will take you on a journey of what one woman must do to protect what she sees as the future.
Releasing quarterly through 2016, Barrens brings an entirely new world of opportunity to the comic industry.
This campaign will kick off a great series. Following issues of Barrens will not be crowdfunded, so it's important they get a good estimate of interest with these early pre-orders on top of using Kickstarter to get the word out about their new and awesome series.
Like all projects, there are variables which need to be covered. The team is using the majority of the funds to get you the goods and the rest to cover the work and fees.
This campaign will kick off a great series. Following issues of Barrens will NOT be crowdfunded!
Cosplay Variant Cover features Erin Lei as Esme Ford photographed by WeNeals Photography and Retouching.
Learn more about Project-Nerd Publishing at pnpublishing.com
PopCultHQ interview with comic book creator:
CW Cooke
PopCultHQ: Do you actually still work a day job selling insurance? Is that by choice, meaning you want to keep a steady pay check and not be a starving artist? Or is there a family to support, so it has to be done? I just wanted to know this first?
CW Cooke: "I do still work insurance. And yeah it's for a steady pay check and to support me and the wife. No kids, but I gotta pay artists and bills and whatnot. I've seen a lot of friends start doing comics and go broke fast"
PopCultHQ: Stormfront Publishing – was that your first gig in the comic book industry? It seems you have a lot of historical work there, a lot of how you say, a history guide on famous people. Are you like me in that you have to know what is historical fact and what isn't? How was your time over at Stormfront Comics?
CW Cooke: "When I worked there it was Bluewater Comics and that was my first official comics gig. I'd done a couple short stories in a couple small publications but Bluewater was my first dip in the national publication pool. And I spent a lot of time on research for the subjects I wrote about. Some it was quick and easy and some it took a long time. And it had to have a journalistic approach to it. I couldn't skew the words toward someone I didn't like"
PopCultHQ: What did you learn the most in the business from your time there?
CW Cooke: "I believe I learned a lot. I learned a lot about my research tactics and how to focus them a little better and how to tell an unbiased story. From my fiction time there, I learned a lot about crafting a story from scratch and about adapting stories. I adapted two novels into comics and two screenplays."
PopCultHQ: You seem to have really struck a chord with the fans and your own personal projects, having thus far been outstanding! Kickstarter has been their for many creators to make their dreams come true. Thoughts on kickstarter?
CW Cooke: "Kickstarter is stressful, it's maddening, it ruins my sleep patterns, but I love it because it's a very necessary evil. If it wasn't for Kickstarter, Solitary never would have happened and Barrens probably wouldn't either. It helped me build a bigger audience than I'd ever had before and see and interact with people all over the world."
PopCultHQ: Your first funded creation was Solitary and that book kicks all sorts of ass! I have not gotten issues yet but just from what I seen it's so fantastic, I have it on my very own 'must read, must own' list. How much does this new project Barren have that very same amount of passion?
CW Cooke: "With Barrens it was a comic that kind of took on a life of its own. I signed on to work with Project-Nerd on whatever they needed because I've known and respected Iggy and his team and Erin for a long time. They were one of the first podcast interviews I did at a major comics convention and they've pushed me forward ever since. And they were looking to do comics and I presented them with Clock Puncher (a project I co-wrote with JD Arnold and is drawn by Chris Fenoglio) and they were working on a loose synopsis for another series that I pitched on and essentially ended up co-creating from the top down."

"So I'm just passionate about comics and telling stories."
PopCultHQ: A lot of people at first glance are maybe going to – either dismiss the artwork, since it is different and stylistically toned down, if you will. I LOVE this kind of work personally. But everyone wants Jim Lee or "big publishers" art-style if they think a books needs to become popular. Bryan Timmins is unknown by the "popular market" just yet. What would you say would be the misconceptions of buyers/supporters not giving him a chance?
CW Cooke: "Bryan Timmins is a guy who has been in animation for a number of years and has a love of comics that people would respect. He has a lot of knowledge about them and is a fantastic storyteller. People are going to see pretty quickly why we're all excited to have him doing this. He's not trying to be the next Jim Lee, he's the first Bryan Timmins."
PopCultHQ: Another thing people might think at first glance – that this is just a Furiosa in comic book form. How will you counter those critics?
CW Cooke: "The Furiosa on comic book form is going to be something that people will understand pretty quickly once they read the series. I'm not one to attempt to avoid comparisons because being compared positively to that character and movie would be incredible. I think our series will be more akin to Kill Bill with a Tank Girl or even Akira vibe to it. It's going to surprise a lot of people once they get past the post-apocalyptic setting. I also keep calling it a post-apocalyptic Breakfast Club meets Kill Bill. Which is mostly to say it owes a lot to George Miller, John Hughes, and Quentin Tarantino. And at the same time, the 70's and 80's and 90's action movies we all grew up with."
PopCultHQ: Anything more you can elaborate on with the supporting cast in Barrens?
CW Cooke: "The supporting cast is going to be something special. I've never really done a team book before (not in a lengthy fashion and one instance more focused on people separately). So this is my way of telling a story involving a bunch of different voices and characters with cross purposes and it's going to be a blast. People are going to be in for a surprise. A lot of people will be excited and love Riot right off the bat, but might enjoy Hedge or Downer by the next moment, and then there's Panic and a few others who cycle in. They'll still love them too. Esme is always going to be there, holding everything together as a strong lead and as a badass."
PopCultHQ: Any "exclusive" news for PopCultHQ?
CW Cooke: "Exclusive news-wise – we will be updating names for the pinups to be included in the series and will be adding more and more pages over the next couple days, so keep your eyes out. And we are very vocal, so if people have suggestions or ideas for perks they might like to see, we are happy to hear them. Beyond that, we are doing everything we can to include our lovely backers and make them a part of this world. We offered and are still offering guest spots in the book and are planning to make sure that every single person who pledges gets their name in the book. What that means is, if you've given a dollar or more, you'll be included in the series. Your name will be featured in a thank you page as well as somewhere within the pages. Might be a street sign. A character's name. On graffiti. Could be anywhere. We plan to make it a fun little game for people to find themselves or their names in the series. Beyond that, anyone who pledges at the high-end ad space gets to be included as an ad for the life of the book. We plan to provide them space throughout the series so that they can also have their contribution rewarded. The ad space is $150 for life of first issue and $350 for the entire arc. Including reprints and all that good stuff"
PopCultHQ: Any final words you want to get out to the fans?
CW Cooke: "We just want to make sure everyone gets to be involved in some awesome way with the series."
CW Cooke: "Also I think Solitary comes back early next year. Hopefully haha"
PopCultHQ: Thank you for stopping by and sharing your new project with us CW
CW Cooke: "Thank you for doing this!"
PopCultHQ: Anytime CW, we'll for sure get together again!
Be sure to please click the Barrens kickstarter project link and help support this great series, as well as get some fantastic prizes!!

Project-Nerd Publishing team members include Founder & CEO Iggy Michniacki, Publishing Coordinators Jarrod Bridgeman and Don Winsor as well as Manager of Acquisition Galo Gutierez.